For Sale

View sale book
16th Annual
Southern Synergy Angus Female Production Sale
April 8, 2023 • 12 Noon
Selling Approximately 140 Registered Females
Offering genetics with our Southern Synergy partner, CAM Ranches
Angus females designed with a focus on calving ease, maternal excellence, growth and end product merit.
• 31 Fall Heifer Donors
• 4 Three-Year-Old Bred Donors
• 5 Cow-Calf Pairs
• 19 3- to 5-Year-Old Bred Cows
• 80 Fall Bred Heifers
View videos of females selling
Hosted by Ogeechee Angus at our farm (200 Robert Johnson Road • Midville, GA 30441). Join us in person or watch the sale and bid live online at Cci.Live.
Trust the Process
Creating registered cattle with inherit value is the result of an unparalleled balanced of all traits of economic importance. TRUST THE PROCESS requires focus, discipline and a responsibility to supply the beef business with value-added seedstock.
Average EPDs of Southern Synergy Females Selling on April 8 vs. Angus Breed Average EPDs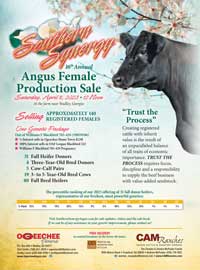 Learn Why We Trust The Process (ad)
The Southern Synergy partnership of Ogeechee Farms and CAM Ranches has been one of the most reliable seedstock suppliers in the U.S. for over a decade. Join us for our next sale offering!