Home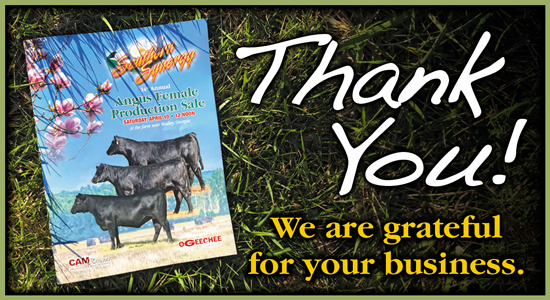 Anyone involved in agriculture, whether it's crops or livestock, knows that today's harvest was planned months or years before an actual payday occurs. The registered seedstock business is a perfect example.
Our breeding decisions made 12 to 24 months ago were based on guiding principles of discipline, best practice management, high accuracy, progeny proven genetics and the strategic implementation of proven technology.
April 10, 2021, was the day we had hoped would indicate the acceptance of our decisions made many months ago. The largest crowd in our history, both in person and online, signaled the demand for Southern Synergy genetics.
At the end of the day, 171 bidders and 72 buyers from 22 states selected females from our most powerful offering to date.
We are extremely grateful to everyone that registered to bid and purchased. We appreciate your interest in our program and are committed to earning your business and continuing to supply the beef business with the most current and relevant genetics available.
Ogeechee Angus bulls sell in these upcoming Gardiner Angus Ranch sales
6th Annual "Meating Demand" Bull Sale • May 10, 2021
17th Annual Fall Bull Sale • September 27, 2021
5th Annual "Early Bird" Bull Sale • January 24, 2022
43rd Annual Production Sale • April 2, 2022

The Southern Synergy partnership between CAM Ranches and Ogeechee Angus Farms is a commitment to designing better beef using the most accurate and reliable tools available to seedstock producers. The results are some of the most predictable females available in the Angus breed today. Their sibling brothers compete at the highest level and are marketed at Gardiner Angus Ranch in their four sales each year. The opportunity for profitability reaches every segment of the supply chain.