Home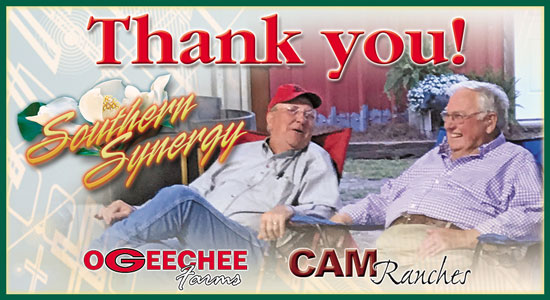 On behalf of the entire Southern Synergy team, we thank you for the confidence shown at our recent Angus female sale.
Ogeechee Angus bulls sell in these upcoming Gardiner Angus Ranch sales
3rd Annual "Meating Demand" Bull Sale • May 14, 2018
14th Annual Fall Bull Sale • Sept. 24, 2018
2nd Annual Early Bird Bull Sale • Jan. 28, 2019
40th Annual Production Sale • April 6, 2019
The Southern Synergy partnership between CAM Ranches and Ogeechee Angus Farms is a commitment to designing better beef using the most accurate and reliable tools available to seedstock producers. The results are some of the most predictable females available in the Angus breed today. Their sibling brothers compete at the highest level and are marketed at Gardiner Angus Ranch in their annual spring and fall sales. The opportunity for profitability reaches every segment of the supply chain.
© • All Rights Reserved • Ogeechee Farms, PO Box 820, Wadley, GA 30477
(706) 551-2878 (Clint) • (229) 646-4785 (Smitty) and Designed by Cogent Ideas Inc
Hosted By Angus Media
Web Design